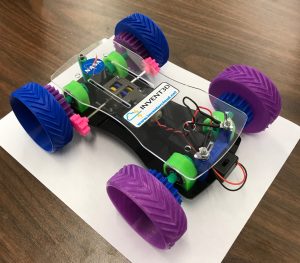 INNOVEX are specially designed projects that challenge students to research, design and build items that are applied to reinforce STEAM learning.  Working in teams, students create projects including miniaturized Mars rovers, gliders, birdhouses, composters, gearboxes, Noah's Ark, musical instruments, and puppets.  Students then use their creations in experiments and performances. Projects are self-paced and come with lesson plans, step-by-step resource guides, materials and CAD tutorials.
Key features of INNOVEX Projects are as follows:
8 Themes to Choose From

Gaining Traction on Mars (Developed in collaboration with NASA)
Let It Glide (Developed in collaboration with NASA)
Playing My Song
Floating Zoo
For the Birds
Puppet Show
Good to Be Rotten
Geared Up!
​Designed for integration into existing classes
​Scalable to accommodate class needs

Length can vary from weeks up to full semester
Content can be tailored to age group and ability level
​Promote 21st Century skills such as creativity, critical thinking, problem solving, teamwork and effective communication
​Diversity in subject matter, ranging from engineering to arts​
​Full access to INVENT3D Maker Space, including design and fabrication assistance from lab staff
​Project kit and material supply packs provided
​Complete set of 3D Modeling Tutorials
​Professional development and class instruction available from Invent2Make experts
​Free shipping of student projects