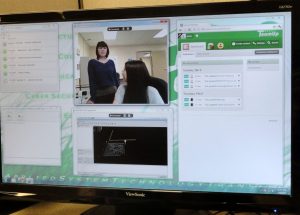 INVENTORcloud uses Moodle, an open source LMS for its curriculum.  INVENTORcloud's site, TeamUp, provides access to the courses and individual classes where students document their work in individual and team journals. This LMS offers educators tools for grading and monitoring student work.  Students can use familiar applications for chat, file sharing, and calendars. Teachers can also communicate with students and host discussion areas.
Each course has a teacher and student version which are accessed in TeamUp Moodle.  TeamUp Moodle, used along with STORM and solid modeling programs, allows students' ideas to be turned into designs and virtual prototypes. This integration of software applications allows students to learn in mixed realities – real and virtual – in a seamless, exciting manner that engages students and excites their interest in STEM disciplines as well as innovation and design.
TeamUp synchronous and asynchronous social media tools:
Digital Journaling: Individual and Team Journals are rich, organized pages of images, ideas, files, notes and comments. Teachers evaluate homework in Individual Journal; teamwork is documented in Team Journals. Journals can be formatted into a PDF for use in a student's ePortoflio.
Members: A Facebook-type list of group members with individual profiles.
Blog: Teachers and students can use for communication, discussion and forming team identities.
Calendars: Class, individual and team calendars can be created with events and deadlines.
Parts: Workflow tracking system for remote manufacturing and analysis of parts; students and teachers can easily communicate with STORM:Lab for equipment use, instruction and mentoring.
TeamUp can integrate with existing learning management systems (LMS) and accommodate open and commercial design software such as Fusion360, SolidEdge, SketchUp, AutoCAD, Inventor and SolidWorks.