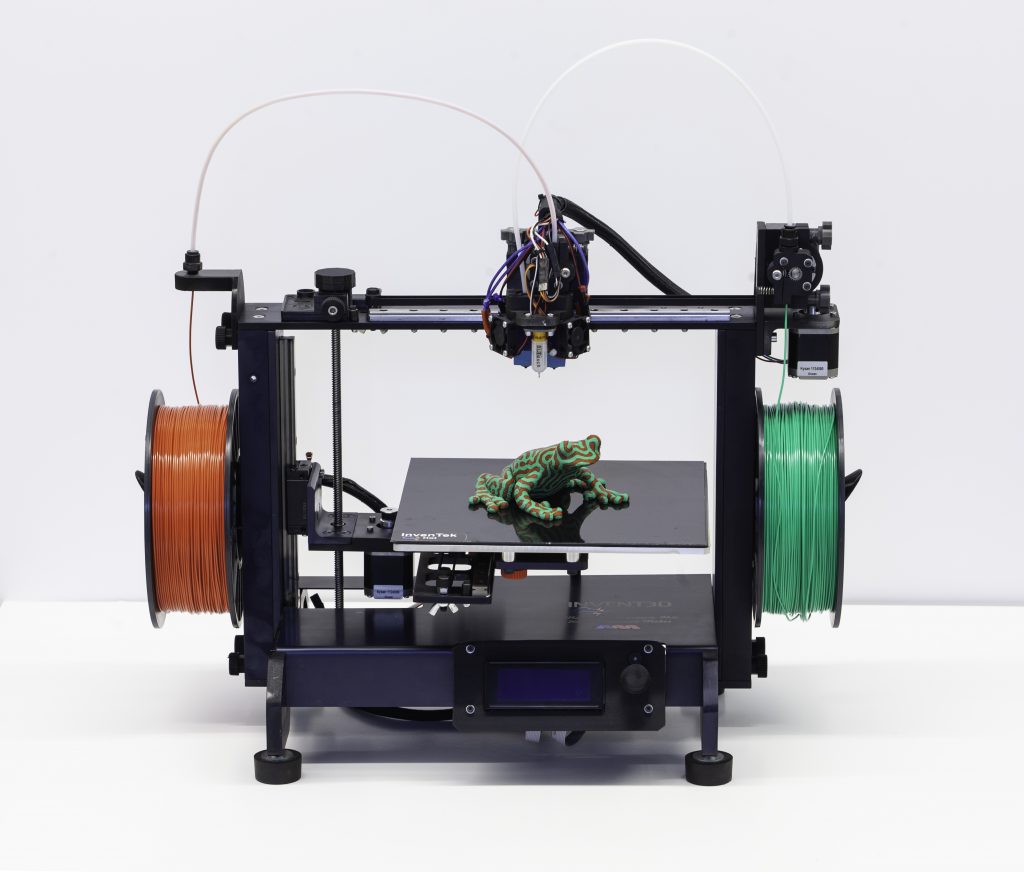 Auto Leveling. Integrated touch probe sensor, accurate to 0.001mm, produces perfect print board level every time and eliminates need for tedious manual print board leveling procedures. Factory calibration ensures the printer is ready for use out of the box.
InvenTek Print Surface with EZ Part Removal. The InvenTek Print Surface provides superior adhesion and part surface finish. EZ Part Removal allows the magnetically attached print surface to be removed and flexed, causing the part to simply pop off of the surface without the need for scrapers or other part removal tools.
Rapid Print Head with PDQ Hot End Select. Rapid Print Head option prints at up to 4x the speed of standard hot ends, greatly expediting print time of student projects. Easily switch between standard High Resolution and optional Rapid Print Heads with PDQ Hot End Select mounting system.
Available in Standard and Large Format Models. The INVENT3D printer is available in both standard (250 series) and large format (300 series) models, with build volumes of 250mm x 250mm x 180mm and 300mm x 300mm x 280mm, respectively.
Dual Head Option. Both standard and large format models are available with a dual head option, allowing for printing in two colors.
Rugged Construction. With a frame and print board made from durable, precision-machined aluminum, the INVENT3D printer is constructed to endure the rigors of heavy use in a classroom or lab setting.
Built for Reliability. Manufactured with authentic, high quality components in Youngstown, OH. Use INVENT3D PLA filament for best results.
STORM-Enabled Virtual, Real Time Training and Support. Virtual presence technology is used to remotely provide instruction, troubleshooting, and repair support in real time to any of our customer's wherever they may be. Expert interactive training sessions for all ages and ability levels are available and can be customized to client needs, with focus areas in printer use, maintenance and troubleshooting, 3D CAD design and slicing.
Effortless Maintenance and Service. Printers feature an open design for quick access to all major components. Service and maintenance is performed with minimal common tools. Rapid technical support is provided via our dedicated support ticket website and real time virtual assistance.
Industry Leading Warranties. Our standard warranty included with every printer is 1 year in length, double that of industry typical 6 month warranties, and we offer 1-year and 2-year extended warranties at 15% to 25% lower cost than similarly priced printers.